How might we carry forward the legal system's resilience during the COVID-19 pandemic to maximize access to justice?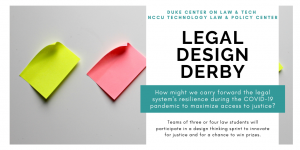 Additional questions to consider:
What lessons were learned during the pandemic that give us insights into access to justice?
Legal systems adapted – what worked? What possibilities emerged?
What didn't work? What do we need to do to guard against future disruptions to the legal system?
What is the Legal Design Derby?
In teams of three or four, law students used human-centered design principles to develop, refine, and present a prototype during a public event in early November. Students received content live and asynchronously from facilitators + support from advisors, coaches, and community members. The estimated time commitment to participate is three hours per week from September 13 through November 5.
Final presentations of the developed idea were reviewed by a panel of judges and monetary prizes were awarded to the top teams. Learn more about the Solutions Showcase. Additionally, for promising ideas, participants may receive financial support and other resources in Spring 2022 to build and implement their idea. 
The Legal Design Derby was open to all North Carolina law school students and was co-hosted by Duke Center on Law & Tech and North Carolina Central University Technology Law and Policy Center. The program was sponsored by Lawyers Mutual Consulting + Services and Nelson Mullins in Fall 2021.
Why participate?
Help to make tomorrow's legal system better than today's

 

Cultivate a deeper understanding of how the pandemic impacted the legal system and access to justice

Learn fundamental human-centered design skills that bolster creativity and are a growing part of many professional positions

 

Develop teamwork skills and connect with mentors, alumni, and stakeholders

 

Compete for prize money

 

Have fun!

 
Questions?
Email Kelli Raker at kelli.raker@law.duke.edu.