How Climate Change Threatens Financial Stability and the Implications for Financial Markets Regulation and Innovation
While there has been longstanding interest in how financial markets affect climate change, the effects of climate change on financial markets have received comparatively little attention. The threat of climate change to financial stability is now too big to ignore. Some central banks have incorporated climate change into their prudential agendas and market regulators are exploring climate risks, but more systematic regulatory approaches are needed to effectively measure and mitigate systemic risks resulting from climate change. Banks, asset managers, insurers, and other financial services firms increasingly recognize their exposures to physical and transition risks, but climate change necessitates a paradigm shift in financial risk management. As financial markets regulation and innovation to address climate change risks begin to emerge, there is a crucial opportunity for interdisciplinary researchers, policymakers, and financial industry practitioners to collaboratively formulate effective regulatory and industry responses.
Sponsored by the Global Financial Markets Center at Duke Law, the Duke Center on Risk in Science & Society, the Nicholas Institute for Environmental Policy Solutions at Duke University, and the Duke University Center for International and Global Studies, this this one-day symposium will bring together key stakeholders to explore how climate change is affecting financial markets, current and potential regulatory and industry responses, and the implications for economic and environmental resilience.
The symposium will begin with a discussion of climate change risks and transmission channels for financial markets, with an emphasis on how these risks can become systemic, thereby threatening financial stability (Topic 1). Drawing on research and experiences with analogous problems, the symposium will explore strategies to better analyze, manage, and mitigate these threats to financial stability (Topic 2). The symposium will then highlight regulatory efforts to tackle climate change risk and the associated analytical and policy challenges (Topic 3). It will conclude with a discussion on financial industry reaction and adaptation to climate change risk, emphasizing innovations to manage risk and promote economic and environmental resilience (Topic 4).
Karsh Alumni and Visitors Center
Venue Address
Karsh Alumni and Visitors Center 2080 Duke University Road Durham, NC 27708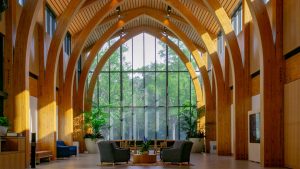 Parking
There is a paved, metered parking lot directly next to the center. Parking is $2.00/hour, 24 hours a day and 7 days a week.
One-day visitor parking is complimentary across the street from the center in a gravel lot. Please be cautious when crossing the street across from the gravel lot or walk down to Chapel Drive to use the pedestrian crosswalk.